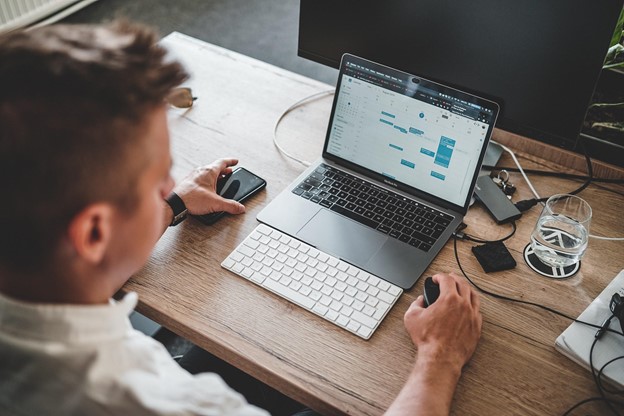 With lockdowns plaguing business models with not much improvement in sight, maybe it's time your business improved its online presence with a website. While this isn't possible for every company, many can simply shift their business model to online and begin reaping rewards.
Some have not only helped their business stay profitable but have sold even more product than before the pandemic struck. By discovering the power of the internet for marketing, it's time to leverage technology to bolster business.
How it helps your business
All it takes is a great-looking website, some proper SEO, and a bit of social media presence, and your business could be booming. But if you already have a site, this could help you too as there's nothing like a new 'lick of paint' to bring your website up to date.
Don't neglect social media
Many businesses don't have a single social media account or just one. This is a mistake even if you think it's of no use to your particular kind of business.  Here's why …
There's no better way to drive traffic to your site than having a few social media accounts that link back to your website with every post you do.  Not only is it free marketing but it will improve your website's SEO (search engine optimisation). A few attractive pictures and two sentences and a hashtag about your business once a fortnight is all takes.
How social media helps SEO and websites
Speaking of SEO, when was the last time you updated your website or even looked at the free SEO rating information on it?  If you've not updated your webpages in a while or don't add new blog or news content regularly, you're losing out.
Search engines look for content on your webpages like alt text on pictures and keywords to find out what your company does, and then rates and ranks your website accordingly.  If your website doesn't use certain keywords often enough, the search engine ranks it lower.
For this reason, copying your social media posts to a news section on your website or vice versa will help on multiple levels.  Not only will the content do for both, but it will help boost your rankings on search engines.
Remember to schedule blog posts and news stories each week or more often if you have time.  If you don't have the time, consider employing a company like BSPOKE Design to handle this for you.
Not only are companies like this technology experts and understand the tricks of SEO and social media, but they often add value in other ways that will boost your business.
How the world of media drives business
Get started today with your new site at BSPOKE Design where we provide quick and easy website design and production to anyone that needs it.
Why not find out how we improved our other clients businesses here.  Contact the BSPOKE Design team today!