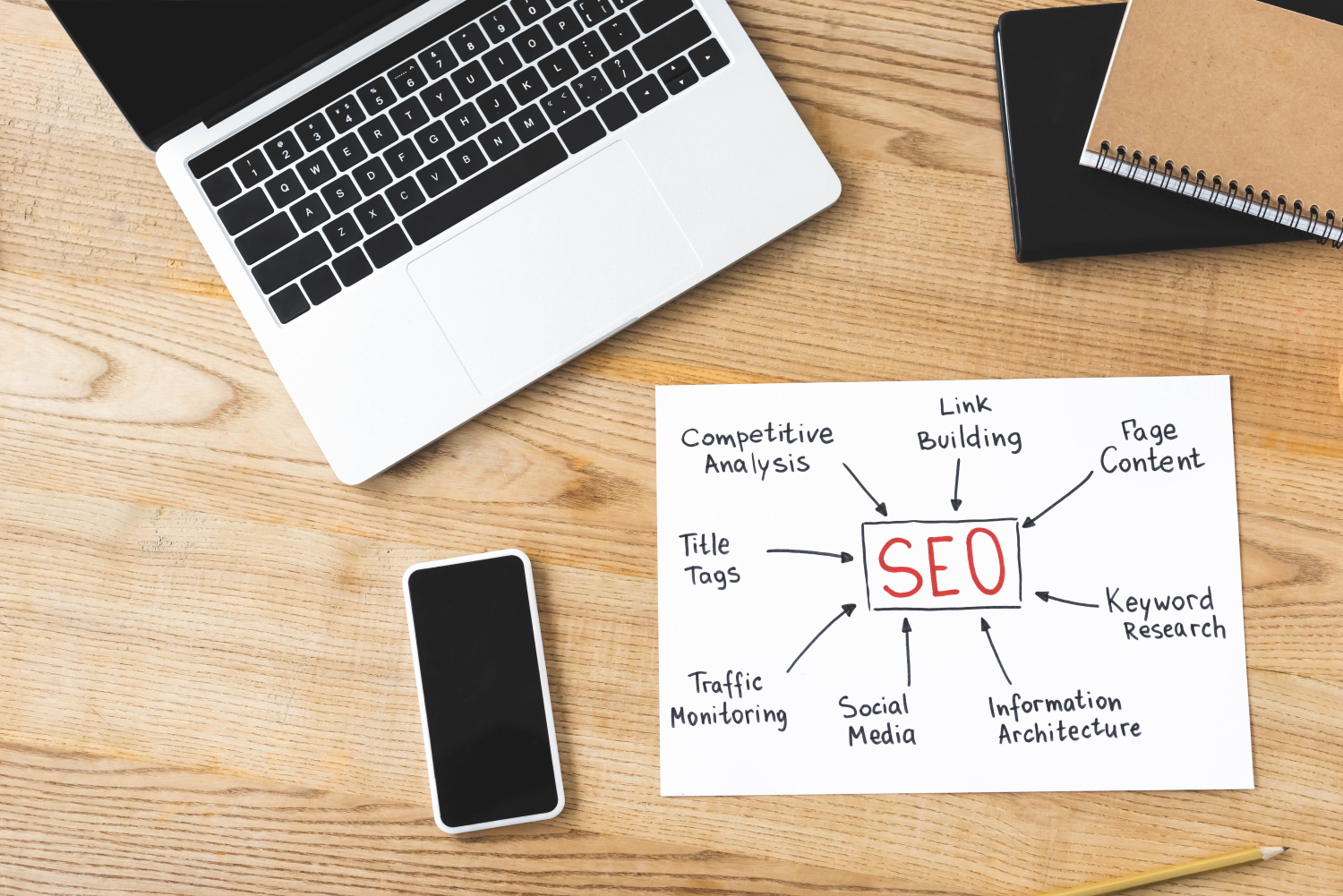 Search engine optimisation is something that anyone looking to improve their online reach should be implementing today. When it comes to digital marketing, SEO is one of the top tools to help you reach a new audience and increase your sales online. The aim of SEO is to place your site higher up on search engine rankings, such as Google.
BSPOKE Design decided to write this article as we are often asked about the importance of SEO and how to implement a strategy.
What are the benefits of SEO for businesses?
SEO offers many benefits to businesses of all sizes. Even the smallest business will benefit from a well-designed SEO strategy, by helping them to increase the number of customers they receive to their website. These are a few of the top benefits you can expect to experience when you implement an SEO strategy:
A user-friendly website – SEO helps to make your site more user-friendly. While SEO is often thought of as just being about ranking higher on Google, it's also about improving the user experience on your site. Try to create an uncluttered and well-organised website, which your visitors will enjoy browsing.
Increase your number of customers – SEO is one of the top online marketing tools, and when implemented properly, you'll find that more customers will find you when searching for your product on Google. With just a small amount of time and effort, SEO can bring in relevant and targeted traffic to any website. Used alongside your other marketing techniques, this can increase your sales within just a few months.
Improved conversion rates – SEO websites are generally much easier to navigate and will load much quicker on mobile phones. When sites are easy to navigate, your customers will spend more time on your site and be far more likely to purchase your offerings. When customers spend more time on your site, it can also increase your Google ranking.
Increased brand awareness – When your site begins to rank higher on Google and other search engines, you'll find that your brand awareness improves. Both nationally or locally, you can work to put your site on the first page of Google and help potential customers to become more familiar with your brand.
Beat your competition – Of course, one of the top reasons for trying to rank higher on Google is to beat out your competition. By following the strategies we'll discuss below, you can place yourself higher on Google. This will increase your chances of being the business that customers pick instead of your competitors.
SEO research for your business
The first step towards creating an SEO strategy is to research how to apply SEO to your website. You'll want to look at your high-ranking competitors' sites and analyse what they are doing to achieve this. Key areas to consider are your landing pages, topics, and length of content. Compare your site side-by-side with your competitors to see why you are falling behind them. From there, check your links and user experience and see what a new customer would think of your website. If you need to, ask someone who is not familiar with your site to review it to find areas of improvement.
Keyword Research
Keyword research is one of the most important areas to consider when trying to improve your site. Research the keywords that your competitors are using and what the most popular ones are for your local area. You can find some great keyword tools online, which you can use to find relevant phrases and words to add to your site's text and headings. When using keywords in your text, make sure you don't overdo them, as you still want to offer your customers a valuable piece of content.
Local SEO
Most businesses should always try to customise their content for their local town or city. Adding the phrase 'in London' or 'in Manchester' to your other keywords can help you to find relevant customers for your services.
Creating an SEO strategy
Initial Strategy
Once you've reviewed your current content, it's time to think about how you are going to improve your website. Ensure your content is written well, and employ a copywriter if this is not one of your strengths. Your site needs to be unique, so make sure you don't copy and paste any content from another site. You can, combine all of the best concepts of your closest competitors' sites. Then once this is done,  add more value to ensure you stand out from the crowd. You'll need to take the time to think about your strategy and update your site slowly. SEO optimisation isn't something that will happen overnight. You may need a few months of hard work, to improve your rankings and begin to see changes.
Maintenance Strategy
After you've worked to build your authority online, it's critical you have a strategy in place to maintain it. SEO isn't something you can forget about, as popular keywords and expectations for Google rankings are always changing. Continue to add regular content and links to your site, which will help you to maintain your ranking online. Avoid keeping any out-of-date content on your site and fix broken links, as these can quickly reduce your ranking.
Website Review
SEO is something that any business today will need to consider. It's a good idea to take the time with your marketing team to look at where your website needs improvement. While it can be daunting to review all of your previous work, you can still make the required changes gradually. By following all of the top tips listed above, you'll soon notice your search engine rankings improve. This will also have the added benefit of attracting the right audience for your business.
If you don't have the time or the knowledge to implement SEO within your website, BSPOKE Design can help. As we develop your new website we will build in SEO elements. If you already have a website our SEO consultation service, may be what you need. Call today to speak to us about your SEO.