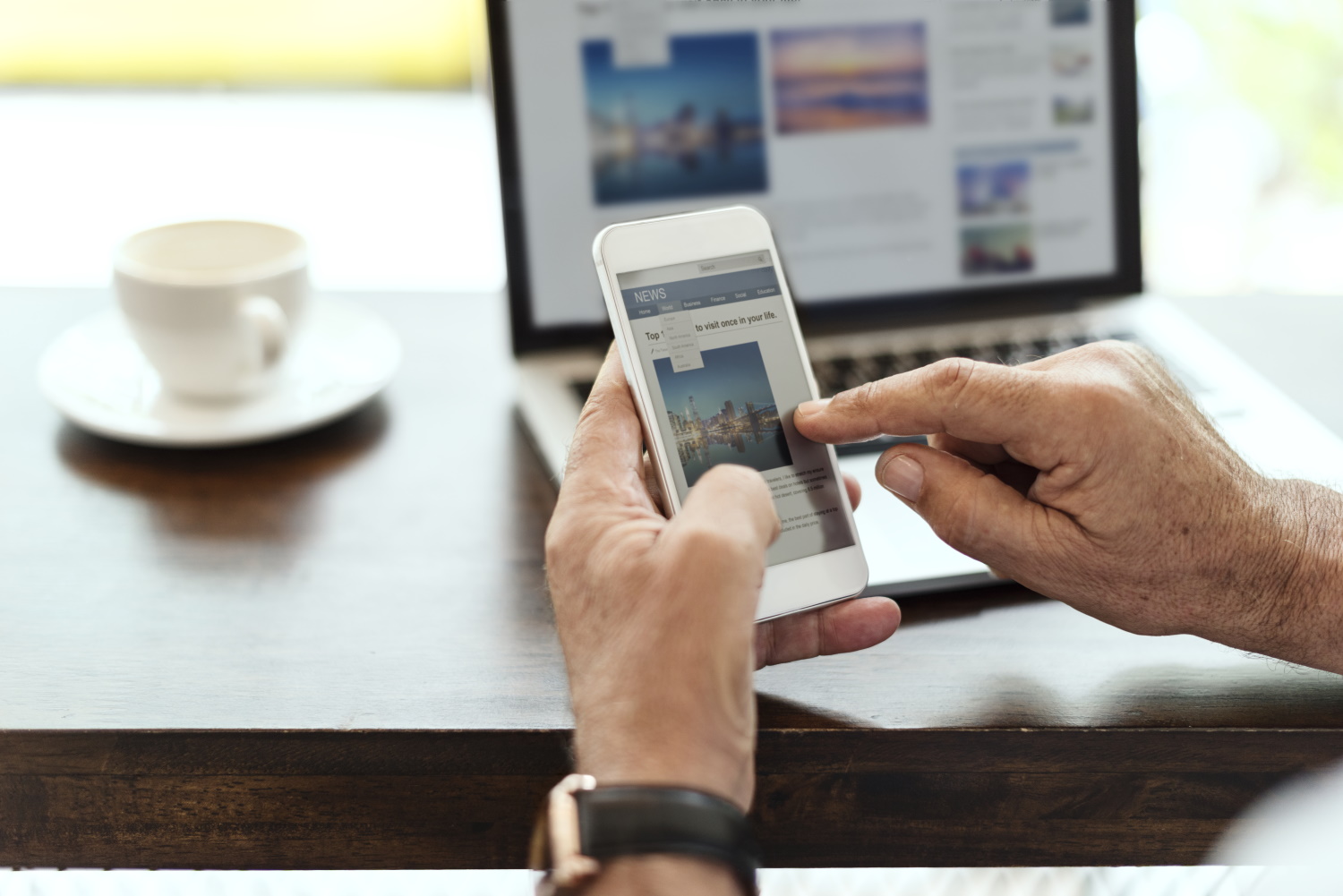 Use our six top tips to improve mobile user experience – a key determining factor for the websites today
For the past five years, mobile usage has surpassed computer usage. Nowadays, over half of the world's website traffic is derived from mobile users. This means that more of us than ever before are relying on mobile phones and tablets to complete tasks that were previously reserved for laptops and desktop computers. For this reason, it's critical that all businesses have a mobile-friendly website. You don't want to drive traffic to your website, only for them to bounce due to a poor mobile experience. Here are just a few of the ways that you can make your website more mobile-friendly with the help of a professional web developer.
1) Create a responsive website
A responsive website will help your site to run well on both desktop and mobile devices. The site will then be optimised to the user's screen, making a more pleasant viewing experience for everyone. This type of website design is also very important for SEO, and is something that is highly recommended by Google. However, if you don't feel up to the task of making your website responsive alone, we completely understand. Using a professional web developer will help you out with this task, saving you time and effort in the long run. If you have no web design or coding experience, you'll still be able to benefit from having a responsive website.
2) Make your site easy to navigate
There's nothing worse than landing on a website only to find it impossible to find the one piece of information you are looking for. Most individuals who use mobile phones for internet browsing are trying to find a piece of information in a rush. They want to find this information immediately and shouldn't spend ten minutes trying to locate it on your site. Before working with a web developer, think about what your mobile visitors will be expecting from your site. We always recommend adding an FAQ section to your site, which can help answer the most common questions you can expect from visitors. If you don't know where to start, Google Analytics can offer you some insight into your analytics, and you'll learn how mobile visitors usually interact with your site.
3) Reduce or eliminate pop-ups
When you are viewing a website on a smaller screen, there's nothing worse than pop-ups that block your viewing experience. In fact, you'll find that this is one of the top detractors from mobile websites. Visitors will soon close down your site and open up your competitor's site if this keeps happening. While we understand that not all companies can afford to get rid of their pop-ups completely, either choose to disable them for your mobile users or only have them appear at the bottom of each page. Make sure they are easy to close down as well, to avoid anyone from leaving your website.
4) Improve the speed of your website
No one has the time or effort to wait for a website to load. When they are out and about, they want answers to your questions immediately. Users don't want to hang around to get the information they are looking for. It's believed that within five seconds of landing on your site, users will click away if the site hasn't loaded. A professional web developer can assess your current mobile site and make suggestions for areas that are slowing down your loading speed. While you may think it's worth having dozens of stunning images on your site, these can often be one of the biggest issues for site speed.
5) Keep your website clutter-free
When it comes to website design, less is more. Customers aren't looking for over-complicated websites and would prefer landing on a minimalist website that's easy to navigate. You don't need to offer your visitors hundreds of web pages for them to find the information they need. If you don't feel you have a good eye for design, don't worry. There are plenty of great web designers and developers who can offer you their opinion and suggestions on your mobile-friendly site. Try to keep your site as simple as possible while still offering everything your customers might need. Make it easy for them to purchase your products, services, or to get in touch, as this is ultimately the reason for having a website.
6) Button and font size
For mobile users, you'll want to ensure that your font and buttons are large on a mobile device. With a mouse, it's so easy to click on any button size, but with your fingers on a small screen, this can be much more challenging and frustrating. When buttons are spaced too close together, you'll find your customers soon click on the wrong page. This provides a poor experience, which may result in them leaving your site altogether. Bigger buttons that are placed in a thoughtful position should be your first consideration. You'll also want to make sure you spend a good amount of time testing this solution out.
Don't be afraid to get your employees and family members to test out your new mobile site and request honest feedback. It's especially important to consider button and font size if you are appealing to a wide audience to increase the chance of them purchasing from your company in the future.
Final Thoughts
There's a lot to consider when creating a mobile-friendly website, which is why we recommend using a web developer. Our team of experts is experienced in creating mobile-friendly websites. We will ensure that all of the above features and much more are implemented into your site design. Mobile sites are visited more often than traditional websites. What this means for businesses is they need to provide a great mobile-friendly experience for their website customers. Providing this will ensure that your website visitors' needs will be fulfilled on the go.
To find out more information, contact us today – we'd love to hear from you!