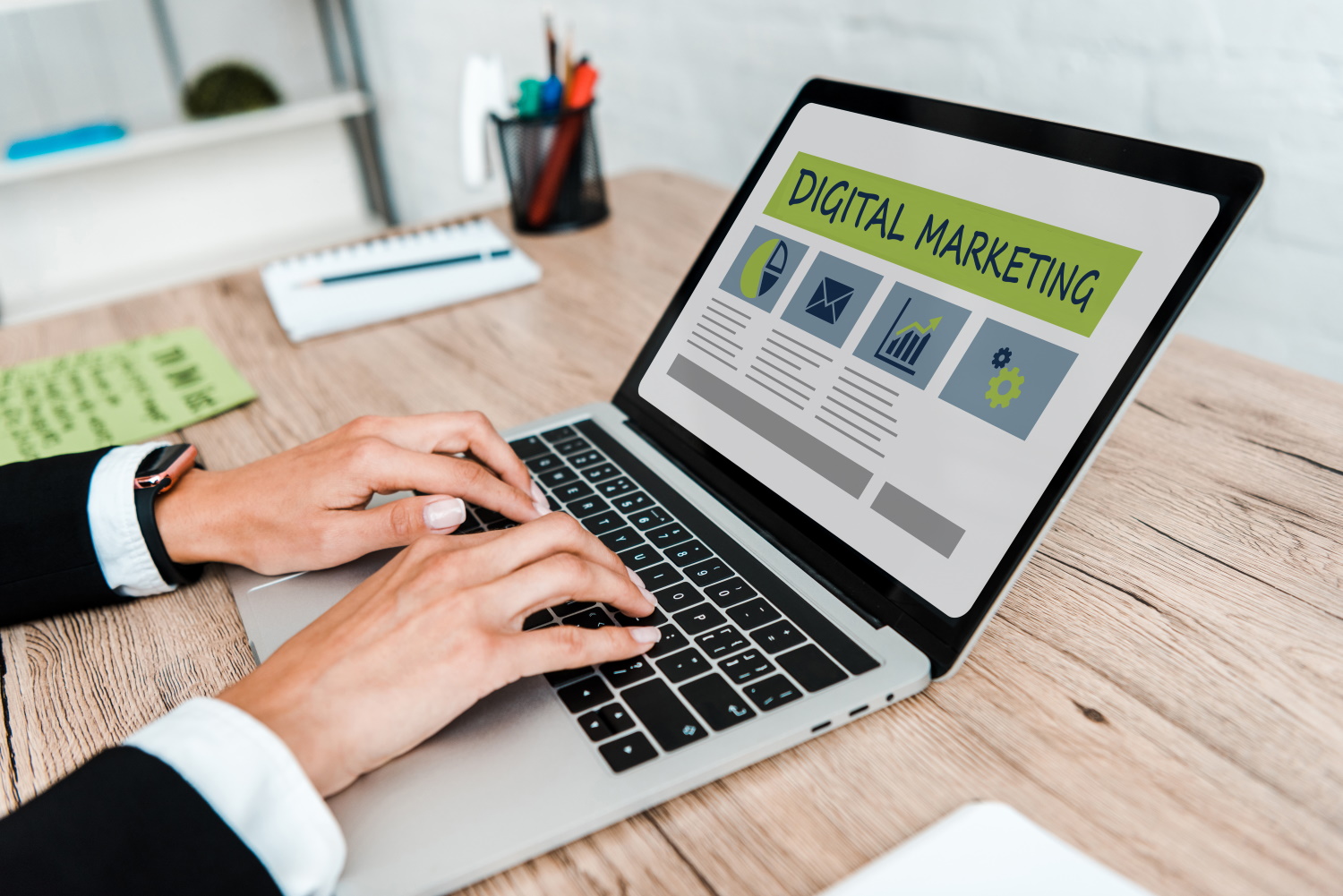 Businesses today rely on digital marketing to spread the word about their offerings to the world. Digital marketing is a modern form of marketing that utilises the internet and technology in order to increase sales. In this blog post, we're going to take a look at digital marketing and how it can help your business in the upcoming years.
Digital marketing – what is it?
Any marketing that relies on electronic devices for its activities is digital marketing. These messages help to share promotional messaging and introduce new customers to your business. Digital marketing campaigns typically take place on phones, computers, tablets, and other electronic devices. They incorporate a wide range of media, including online videos, search engine marketing, display ads, social media posts and social ads. This isn't the same as traditional marketing, as this uses magazines, billboards, and mail to create physical advertisements. Most often, television is also grouped with traditional marketing efforts instead of being categorised as digital marketing.
Types of digital marketing
When it comes to working with our digital marketing agency in Peterborough, you'll want to think about the most effective types of digital marketing for your company. This will vary depending on the product or service you are selling, but you'll want to consider using a combination of these methods for the best chance at success.
Search engine optimisation
When we talked about types of digital marketing, SEO might not be the first thing that comes to mind. However, this is one of the best ways to market your brand to the public and increase your online visibility. SEO isn't something you can just do once and forget about, and it's a task that requires time and dedication. This is why many companies opt to outsource this work to our team. You'll find that when you work with our team, we can audit and improve your current SEO offerings. As well as adding keywords to your site, you'll find that we look at user engagement and mobile-friendliness to ensure your site is ranking highly on Google.
Content marketing
Content marketing works hand in hand with SEO, and it's a strategy that's used to target the audience you are hoping to sell to. The main aim of this type of marketing is to attract leads to your business and then convert these leads into paying customers. When it comes to your marketing, you'll want to ensure you are taking the time to create and write content that's attractive and fun to consume. Obviously, this will vary depending on the industry, but you'll find that the higher the quality of your content, the more likely consumers will be to share it and interact with your brand. Content marketing comes in many forms, but it often includes adding a blog or articles to your site. These are great for SEO and are easy for any company to put in place with our help.
Social media marketing
No business today should be operating without social media accounts. You'll find that Instagram and Facebook are generally the most popular two options. However, for certain companies, you may also want to consider TikTok, LinkedIn, and Twitter. Thanks to the rise of social media influencers, you'll find that it's easier than ever to promote your brand online. You can work on paid partnerships with influencers and other companies. These will help to spread the word about your new service or product quickly and effectively. You'll be surprised by how quickly word gets out to other people about your offerings. In no time at all, you'll notice a huge influx of traffic to your site.
As well as connecting with influencers to advertise your products, you can also pay to advertise your brand on Facebook or Instagram. This is available to businesses of any shape and size. You'll find that it's never too early to start using this type of marketing. One of the great things about paying for advertising on social media is that the algorithm helps to direct your ad to the right people. You'll find that your adverts often end up with your target audience. These will be the people who will be much more likely to buy from your company.
Affiliate marketing
Affiliate marketing is a type of digital marketing that's used by companies to promote their brand. It's a revenue-sharing model which offers people commission if someone purchases from their site. This can be used on social media or traditional websites, and you can create an affiliate program if this is something you are interested in. Of course, you'll need to make it an attractive program to entice top talent. Many of the world's biggest companies, such as Amazon, use this model to spread the word about their offerings.
Email marketing
When talking about digital marketing in Peterborough, one of the top considerations is email marketing. You'll need to use this form of marketing once you have your email list in place. Companies find that it's a great way to share current offers and new product launches. When writing emails for marketing purposes, you'll need to make sure that they are attractive enough to want to open. You don't want to be a company that constantly spams its clients. Instead, you'll want to start adding real value to their lives. Make sure you add an email marketing sign-up option on your website and social media accounts. You can also use earlier marketing efforts to boost the number of people on this list as well.
Digital Marketing Conclusions
Digital marketing is an exciting field, but it's one that many people still don't fully understand. When launching a new business, you need to ensure you use digital marketing as well as traditional marketing. In fact, many companies are opting to put more time and resources into this type of marketing, as it's far more successful for them. If you are looking for assistance with your digital marketing in Peterborough and the surrounding area, contact our team today. We'll be happy to discuss how we can help you to attract more customers to your business in the near future.
If you are looking to revamp your existing business website or in the market for a new one, why not try a custom website. At BSPOKE Design we can offer you a full package which includes hosting, maintenance and an SEO Audit.